Netflix, Inc.  (NFLX), shares of which were up about 70% last week,  offers another interesting comparison of hedging with optimal puts to hedging with optimal collars.
Here are the optimal puts, as of Friday's close, for an investor looking to hedge 10,000 shares of NFLX against a greater-than-20% drop between now and June 21: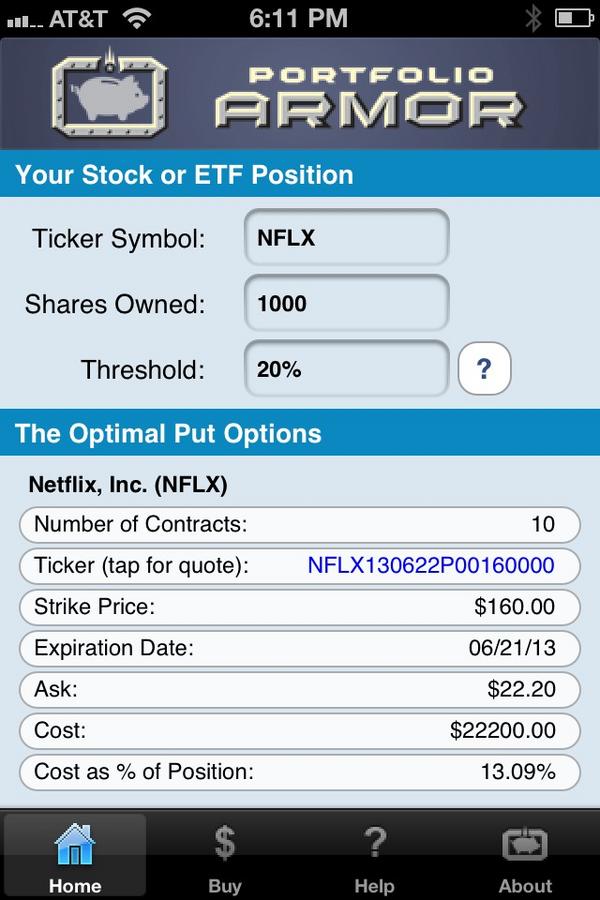 As you can see in the screen capture above, the cost of those optimal puts, as a percentage of position, is 13.09%.
An NFLX investor interested in hedging against the same, greater-than-20% decline over the same time frame, but also willing to cap his potential upside at 15%, could use the optimal collar below to hedge.

As you can see at the bottom of the screen capture above, the net cost of this optimal collar is negative – that means that the NFLX investor would be getting paid to hedge in this case.
The algorithm to scan for optimal collars was developed in conjunction with a post-doctoral fellow in the financial engineering department at Princeton University, and is currently available on the web version of Portfolio Armor. The screen captures above come from the latest build of the soon-to-come 2.0 version of the Portfolio Armor iOS app.  Optimal collar capability will be available as an in-app subscription in the 2.0 version of the app.